Spiral Lights
Source for this scene was exploratory work on seashell spirals.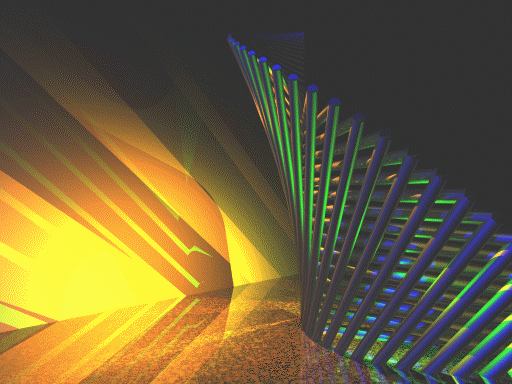 These forms were abstracted and explored using different shapes. The final scene uses long thin cylinders to trace out the spiral shape in three dimensions. Complex coloured lighting creates interesting shadows against the walls.
Larger versions
Best quality listed first; although all these images are very high quality, compression artefacts creep in when using JPEGs. No browsers currently support JPEG 2000 images, although many graphics applications do.
1600×1200 true colour PNG file (lossless compression). 1.37 MB (1,445,797 bytes)
1600×1200 true colour JPEG 2000 file (lossey compression, 70%). 262 KB (268,696 bytes)
1600×1200 true colour JPEG file (lossey compression, 20%). 194 KB (199,567 bytes)
---
Sample source material